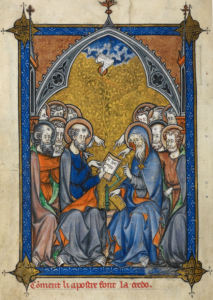 Why do you go on saying a Creed, usually the Apostles' Creed, every Sunday in worship?
There are plenty of church consultants and others who actively encourage churches to let it go. It's not interesting, they say, and people don't know what it means. Perhaps it becomes rote words and people stop paying attention.
All those things may be true. You might also notice that all those objections are choices we make, not laws of nature beyond our control. Choosing to be interested, to learn what it means, and to pay attention, rather than choosing not to do so, could be the first step in a new time of growth toward full maturity in Christ.
A good and simple explanation for our practice comes from Dr. Craig Barnes, currently president of Princeton Theological Seminary. When he was pastor of Christ Presbyterian Church in Madison, Wisconsin, he said this in a funeral sermon for a three week old baby:
"On this day when we are mourning the loss of the baby, let us not compound the tragedy by also losing our ability to believe. How many times now have we stood in church to say, 'I believe in God the Father Almighty … the communion of saints … the resurrection of the body, and the life everlasting'? Why do we say these words Sunday after Sunday? To prepare us for days like today. For years and years we have gathered into this church to affirm our belief, because we knew the day would come when faith was the only thing that could get us through." (Ref. below.)
We don't say the Creed to entertain ourselves, but at least in part to "lean in to the faith of the church," as he goes on to say, and make it our own, so we will have it when we most need it.
(M. Craig Barnes, "Casey William Alley," in Michael D. Bush, ed., This Incomplete One: Words Occasioned by the Death of a Young Person. Grand Rapids: Wm. B. Eerdmans Pub. Co., 2006. p. 6)