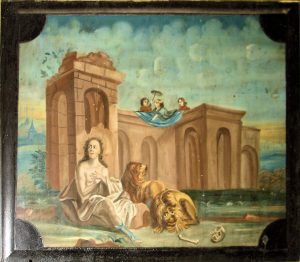 This week we begin a brief series of sermons on four passages of Scripture we tend to emphasize with children and then ignore as adults. The first is Daniel in the Lions' Den.
An audio file of this sermon is available for listening or downloading at this link.
The Scripture readings are Daniel 6 and 1 Peter 3:13-22.
A downloadable PDF file of the worship bulletin is available at this link.
From the sermon:
"This is a story about what happens when loyalty to God brings a person of faith into conflict with the surrounding culture and government. Daniel is a person of enormous ability, and his talent has brought him to the highest level of power. The king trusts him entirely, more than he trusts anyone else in the kingdom, apparently. And we're meant to understand that his covenantal faith in the God of Abraham, Isaac, and Jacob is at the heart of his integrity and trustworthiness."