Greetings from your Mexico Mission team in Weslaco, Texas! After two days of driving, we are settled in our "home away from home" at Weslaco FPC, and most of us are already asleep, in
anticipation of our first day of work across the border. We are always happy to arrive, especially when our travel has been safe and uneventful.
As is our routine for the past several years, on Saturday, once everyone has been picked up, we head to K-May for our breakfast of donuts. Pastor Dayton met us there around 5:45 to pray for our
safe travel and for a successful mission. (I hope you already know that Kata Gregg joined up with the team on Saturday, after taking all her finals a week early, making it possible for her to be part
of this mission.) Although we traveled through some rain, we were fortunate to travel most of the day in sunshine, as Don Miller and Kayo Pinson took turns driving the bus. As has become our
tradition, we stop at the "Raising Cane's" in Slidell, Louisiana, for lunch. If you are unfamiliar with this restaurant, it makes excellent chicken fingers and crinkle cut fries, both of them fresh and hot, and the best you will ever taste. (Kata said she has been dreaming of this lunch for a year!) We were in Baytown by 5:30, and at dinner by 6:30. Then, another new tradition … a trip to Buc-eee's, which Diane Miller describes as "a Flying J on steroids." You can buy anything from outdoor grills to barbecue rub to baby gifts and home decor and almost any kind of food, as well as gas, and the place is huge! (Currently, it is a "just in Texas thing," but Karryl Anderson reports that there will soon be one on I-65 in Mobile.) We we're back to our hotel and nestled in our snug little beds by 10:00!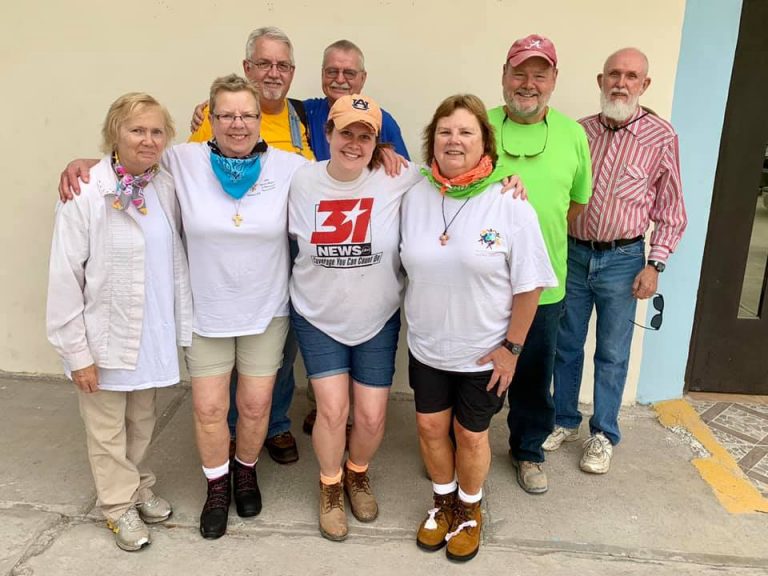 We began our Sunday with our morning devotion at 6:45 on the outside patio at the hotel, and then went back inside for breakfast. By 7:30, we were back on the road and headed for the
Sugarland Starbucks. Thanks to Matt Pinson, who sent the team a gift card, we had our second cup of coffee on him! Then, we headed west and south for the remaining portion of our travel day.
Part of the time, a few of us put the cords on the crosses made by "The Potter's Hand," adding making crafts to the different activities we do to pass the time as we travel. (Mostly, we nap, read
books, and listen to podcasts.) We were ahead of time all day, allowing us to dawdle a little at What-a-Burger, when we stopped for lunch.
So it was around 2:30 on Sunday, when we met Charley Bell and Terry Barbee at FPC Weslaco. (Did we mention that it was over 100* today in Weslaco?) After we unloaded the suitcases and
bedding, and the kitchen stuff and the coats you donated, we were off to WalMart to get our supplies for the week. Seven very full buggies and lots of cases of water were purchased and
then loaded onto the bus for the trip back to the church. We had about an hour to set up our sleeping space before joining Pastor McCann and the members of FPC Weslaco for the covered
dish dinner. Since Colleen and David had to bring our van over, they also stayed for dinner. What a wonderful time we had catching up with our Weslaco friends, (Samuel McCann has graduated
from seminary!) as well as meeting some new ones, (the new FPC Associate Pastor Carla, who is meeting the needs of the Spanish speaking community here.) Stay tuned for more on her mission
with the Presbyterian Church.
Much of our devotion time tonight was spent outlining what our day will look like tomorrow. Because we have a little farther to drive, our day will begin a little earlier than usual, with breakfast
around 5:15, devotional at 5:50, and departure at 6:15. Colleen will meet us at 7:00 at the Hidalgo Bridge in McAllen so she can lead us around the city and to the Faith Ministry compound. (Kayo is great with directions, so we should be able to navigate this area safely.) Tomorrow, we will be prepping and pouring the floor for Ismael, who we worked with last year and who is on the Faith
Ministry staff. Because Diane Miller has a "less busy" Monday planned, she will be on her own during the day tomorrow, and Don Miller, our rookie, will get to cross the border with us. We are
prepared for a long wait at the bridge when we return in the afternoon, (which is mainly because there is only one lane open at that location;) we will have plenty of water, books and/or crafts to
entertain, and an additional battery-operated fan, (thanks to Don Miller!)
What an honor to serve the Lord across the border in Mexico! Thank you for making this mission possible once again. We rejoice with Faith Ministry, who are marking their 25th year of serving in the colonias of Mexico; we at FPC Athens are also celebrating 25 years … 25 years of working with the folks at this mission-oriented ministry. Please continue to pray for us as we do the Lord's
work this week.
With love and gratitude … your Mexico Mission journalist … Randi