Greetings this afternoon from your Mexico Mission team. We made a decision to move our devotional time to tomorrow, since we stayed late at the worksite to finish a row of block. So it is now 2:15, and we are in line to cross the bridge back into the USA. This morning, it was blessedly overcast in Mexico, but sometime around 10:30, the clouds lifted, and it became a very hot day in the colonia. You will be happy to know that today, we are pretty sure we have no forbidden items in our vehicle; we either ate them or gave them away at lunch. We even made sure we threw away all our trash.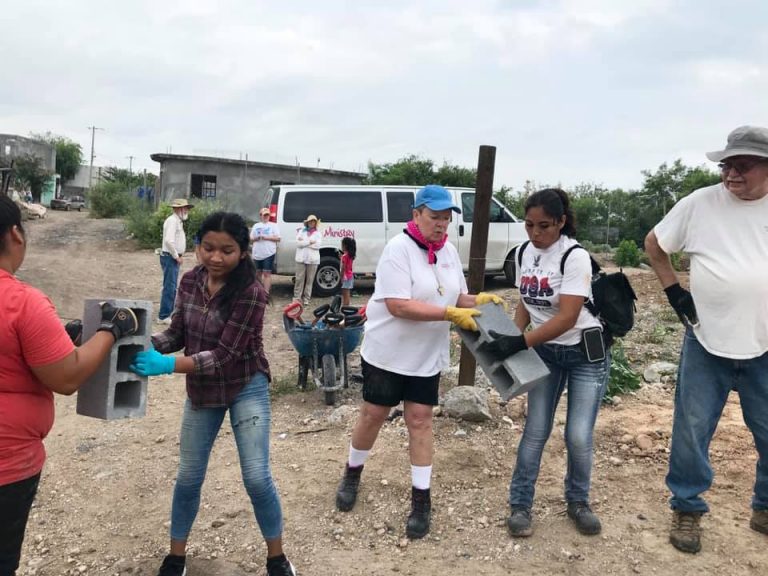 We all had a little more time this morning, since we knew exactly how long it would take us to get to our destination. Julie and Courtney came to help Díane with breakfast, and Don had already decided to stay back and help Diane, today, too. The Faith Ministry crew was waiting for us when we arrived at the church; Kayo always brings our leftover biscuits to the workers, and once he had passed them out, we were off to our worksite.
We began our day again with prayer, inside the house, for the volunteers and the family who will own this house. We had plenty of volunteers today, including our friend Wendy. (You might remember her from last year; she was the one who wanted to be a beautician, and who practiced on both Kata and Victoria.) Our first task was to move the concrete blocks into the house, so a block line was formed to get that done. Some of us no longer have that skill in our wheelhouse, so we used that time to hang out with Claudia and her two children, trying our best to communicate with them, using our "pigeon Spanish." Kata spent a lot of time with Claudia today, and learned that the family unit was more than we thought, and that Ismael has been helping to raise Claudia's two girls. It was also a wonderful opportunity to take turns holding the baby Sofia.
Once all the needed block had been moved, the mortar was then mixed, and as often happens now, since the yard was rough and rocky, the mortar was mixed on the house's new floor. (Overnight, a dog had strolled across the wet cement, leaving an array of footprints, but most felt that could be easily fixed.) It is still the same recipe using sifted sand, cement, and water, and that was done two times with a full recipe, plus another half recipe. There ended up being about six block-laying teams, two for the 24 foot walls and one for each of the 12 foot walls. Then there are a few "mortar maids" to tend the mortar pile, and a few block-movers, plus a couple others to get whatever was needed for the block-layers. One of the experts has to start the corners on each row. As Kayo said, "They don't trust us to set the corners straight, but they do trust us to keep it level once they start it." We, of course, expected to get the required 10 rows completed; however, only the expert's wall got all 10 rows complete, but they also had the door and a window in their wall. (Kayo and I worked on the wall facing the "garbage lake," and, of course, it had no window. I also got to try out my petite trowel, and it was perfect for filling in any open spaces between the blocks.) The Mexican volunteers will finish laying the block this afternoon, as well as tie in the rebar, so we can pour the rings and columns tomorrow.
One of the new folks we hung out with today was Diego's father, who happened to live just down the street. Diego is a fourteen-year-old, who is working with us this week. He just happens to be short in stature, but that does not stop him from running circles around the rest of us. We expect him to be the youngest Faith Ministry foreman, probably by the end of the summer. Diego can do all the jobs, and he does them quite well. Diego's father, Santiago, is a "mortar master." He can "slice and dice the mortar," and with a trowel in each hand, he often looks like one of those hibachi chefs. In addition to that, he is also the "energizer bunny," moving quickly and never running out of energy, and Santiago always has a smile on his face. (It is easy to see how Diego gets his energy and good humor.) Santiago really liked my petite trowel, and he even joked that it would be perfect for Diego, his "mini me."
Just FYI: It is 3:35 and we are back in the U.S. it was smooth sailing today; Agent Villarreal did not even look in the back. The biggest problem today … pronouncing some of our names … both Kata's and Karryl's names seem to be real stumpers.
This afternoon, there was time for a quick shopping trip, so Kayo took those who needed vanilla or other gifts to Gabby's and El Disko in that wee bit of time before dinner. While they were gone, Don continued with dinner prep, Doug loaded the water coolers, and I prepared the snack bags we have been taking to share with the volunteers after lunch.
Once again, we are having an amazing dinner tonight: baked chicken, roasted vegetables, salad bar, rolls, and pina colada cake, which was prepared for us by one of the Weslaco members. After our meal, we will be using some of our time for our devotional, but we also have a little housekeeping to do to get ready for the home dedication on Thursday. Diane and Don picked out some bedding for their new beds, as well as a some essentials for their home and a few special gifts for the two girls. As in previous years, we have prepared a bag of food staples for each member of the Faith Ministry staff, which we will deliver on Thursday.
Today has been a busy and productive day for the traveling team, as well as for the home team. While we worked across the border, Don and Diane spent much of today preparing the meal for our Fiesta on Friday, and that was in addition to preparing tonight's meal and making a shopping trip to WalMart. (While they were there, a woman walked up to them in the parking lot and gave them a cross, with Jesus, that was made out of clothespins.) We are headed to our bedrooms, as 4:45 comes early.
Please continue to pray for our safe travels and a productive work day. Pray also for Ismael's family and our Mexican volunteers who are working alongside us. Tomorrow, we will be pouring the ring and columns on Ismael's home, and then, we will go to work on the community center being built in memory of Deantin.
Thank you for allowing us to serve the Lord this week in both Texas and across the border … Your pen pal in Weslaco … Randi
Below are some additional pictures from the Faith Ministry Facebook page