Good afternoon from the "carl line" in Reynosa! I am beginning my journal entry at 2:00, as we wait to pay our toll and cross back over to the States. This afternoon, we have two guests riding back with us: Pearce and Sofia, the two Faith Ministry interns, are joining us tonight for dinner at Arturo's. Pastor McCann and Associate Pastor Karla, and their families, will also be joining us, as will Colleen and David, with his family, and Carolyn and Charles Bell. We have made this a sort of tradition as a way of thanking the many folks who make our trip here successful.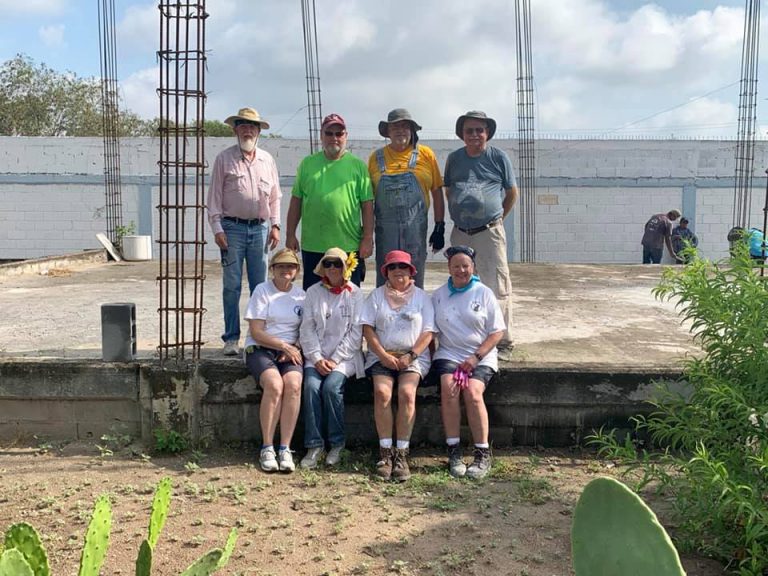 Today, we had a van load, with all nine members of the team crossing the border. We also took our gifts for the family with us this morning, so the back was also chock full of gifts and water. When we arrived at the compound, our first order was to stash the gifts in Colleen's office. The washing machine, mattresses, and cook top were already at the compound, and the beds were being built today. Tomorrow, after the dedication service, we will meet with the family to present our gifts.
This morning, we went to the house we are building, and as predicted, the last row of block had been lain, and the forms for the ring and columns were in place. Basically, all we had to do there was mix concrete and pour it into the six columns and ring. Again, because the yard area was rough, the concrete was made right inside the house, on that once beautifully finished floor. Most of us took turns shoveling sand or gravel into the wheelbarrows … seven of each, plus three bags of cement. (The wheelbarrows are not rolled into the house; instead, they are lifted into the house.) All the ingredients are then mixed and turned by hand with shovels. With several volunteers helping us today, the many hands sure did make the work load lighter. (As you know, the Mexican ladies can shovel as well, or better, than almost all the other workers.) After a scaffold is raised, two experienced volunteers climb up to catch the full buckets and pour the columns and ring; the rest of us shovel concrete, put concrete in buckets, and then pass those buckets up to be poured into the ring or columns. It was an amazingly well-coordinated group of people, who were passing, filling, or dumping those buckets! We were finished by 9:00 and then took time to have our morning break. (While we worked on site, Kata and Pearce went to the clinic to help out there this morning. Kata said it was a slow day for the clinic, with only a few patients, but she was able to spend time with Nurse Betty and help her with a few tasks.)
After our snack, we departed for Naranjito, which is where the garden and Deantin's community center are located. The construction of this community center was the last of five mission- oriented places that Deantin wanted to make happen. Because our church contributed to this center, we really wanted to be able to be a part of helping to build this in memory of Deantin, so we were there to lay a few rows of block. Before we could do that, though, concrete blocks had to be passed into the building, and sand had to be sifted for the mortar, and we were able to do both. Again, the mortar was mixed on the floor inside the future center. Then, each of us laid one of the blocks on the first row of the north wall. It was an honor to help bring this mission to fruition for Deantin, Faith Ministry, and the people of Naranjito. (Colleen made a group photo of us in from of the building, and will do another next summer, when the building is complete.)
We returned to the compound for lunch, (barbecued chicken, rice, mixed vegetables, and salad,) and then we stayed for the devotional, led by Pastor Carlos and Colleen. Carlos did a short meditation on Psalm 137, after which we sang some of the favorite songs of the Ministry. As always, the devotionals are wonderful little mini sermons that pack a powerful message in a brief, but meaningful, church service. In honor of Deantin, we always strive to sit every other seat, so that all the Americans, or all the Mexicans, are not just sitting with each other. Kata, Diane, Myra, Robin, and I tried to do that by leaving a vacant seat for our dear new friends, but they wanted to sit with their friends. Perhaps tomorrow they will join us.
Faith Ministry has a couple of new t-shirts, and this was the day to buy! Almost all of us bought the 25th anniversary t-shirt; a few of us bought the new version of the "que pasa dude?," which is available in two new gemstone colors. And then, we were headed home.
FYI: It is now 3:15, and we have crossed into the US … a new record in reaching the Hidalgo Bridge! Some of the new items being offered for sale today, (as we made our way to the border,) included ice cream, jewelry, and huge pottery planters. Also, Kayo has figured out how to discourage the windshield cleaners … he turns on the windshield wipers … and, today, we saw a man selling windshield wipers. Those few hours "standing still" as we wait in line are some of the warmest minutes of the day; however, we have really loved Don Miller's homemade, battery operated box fans; what a difference to have at least a small breeze going in the van!
Tonight is our celebration meal at Arturo's, and it provides an opportunity for us to thank both our Weslaco and Faith Ministry friends. As in past years, we have all enjoyed a delicious meal, but more importantly, we have an evening dedicated to catching up with our old friends, as well as getting to know our new friends a little better. This year, once again, we gifted our ministry friends with handmade pottery items from "The Potter's Hand." We remain very grateful for how these folks have impacted and blessed us, as each has made a difference in our lives.
Tomorrow, we look forward to pouring the roof for a house that was built a few weeks ago. After lunch, we will have a dedication service for Ismael's home, and we will share communion with our friends. Before we leave for the border, we will give our gifts to Ismael and his family. It is usually a very blessed day in so many ways.
We are thankful every day for this opportunity to mission across the border and in Texas. Pray for our continued ministry and for the family who will receive this home. Please pray that our travel will be safe and our mission in Mexico will continue to be blessed. It is such an honor to be your hands and feet serving across the border.
With love and gratitude, your mission pen pal ….. Randi
Below are some additional pictures from the Faith Ministry Facebook page