Greetings from Reynosa! We are headed home after a tough work day this morning, but a leisurely late morning and early afternoon. By 9:25, we were finished pouring the roof for Casa #9; we had earlier agreed to pour a foundation, and by 10:20, we had finished pouring the foundation. That gave us about an hour and a half to hang out with our Mexican co-workers, before we shared lunch and had our home dedication and Communion. We have just reached the "end of the car line," and it is a little farther back than it was yesterday.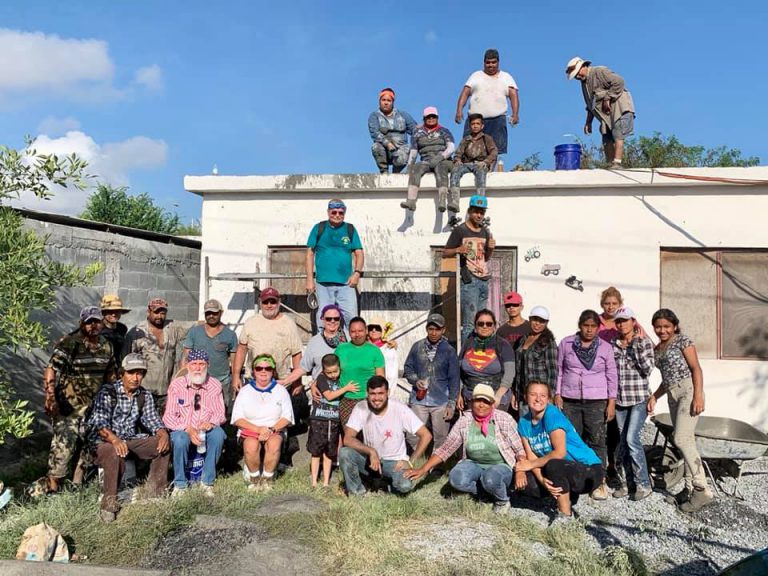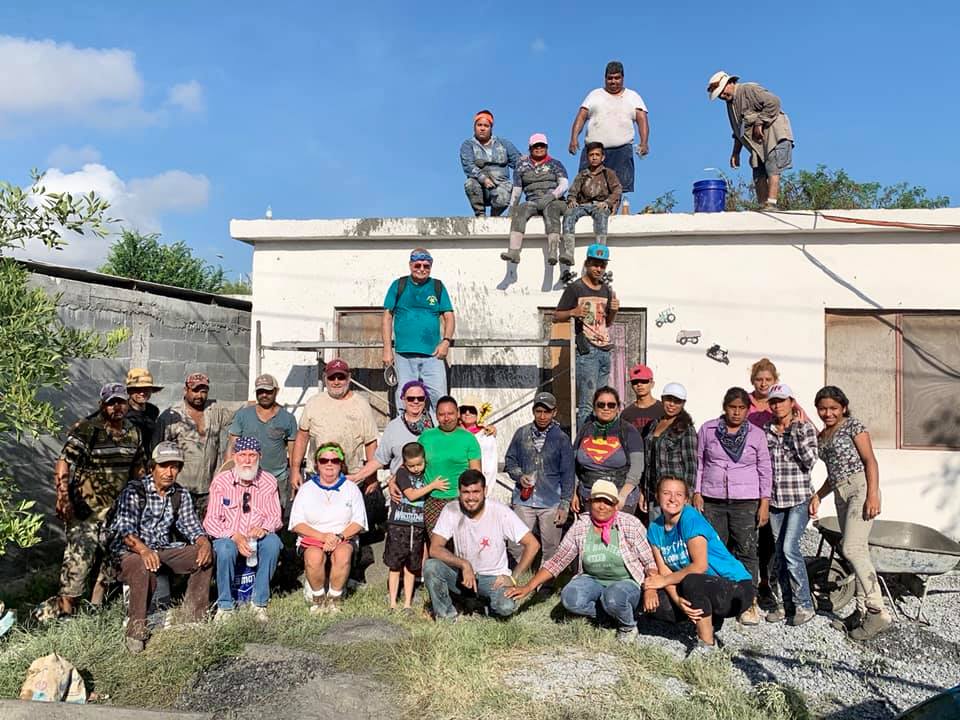 This morning, Charles and Carolyn Bell joined us for breakfast and morning prayer, as did our overnight guests, Colleen, Pearce, and Sofia. (Because we had company, our breakfast included biscuits and gravy.) It is a real advantage to have Colleen with us because she can then help carry across the border our gifts of food staples for the Faith Ministry staff. It actually takes her vehicle and our van to get all of them across in one day.
Every day, as we cross into Mexico, it is always interesting the number of walkers who are walking across the bridge to the U.S. Monday and today, the line stretched all the way across the bridge and into Mexico for a bit. On Tuesday and Wednesday, there were very few walkers by comparison. Every day, there has been at least one tour bus lined up to enter the States. Right before the CBP booth, the passengers on the bus disembark, and the bus driver unloads their luggage; then they walk through customs with their baggage in hand. The bus driver then heads through a separate gate to pick up his passengers on the U.S. side. (Just FYI, today as we waited, we saw people selling beautiful sunbonnets, straw purses, and what looked like lollipops, or some kind of sweet or savory item on a stick, maybe bacon or sausage?) We think they can only sell on the Mexican side, which may explain why there are so many different options in a short stretch of highway.
Both of the houses we worked on today were additions to the owner's home, and both of the owners have been working with us all week. The roof we poured was for Blanca, who has been one of the ladies helping us shovel all week. It was added as an extension to the back of her house. ( We missed you, Don Payne, as you have always manned one of the wheelbarrows on the roof.) Unfortunately, it was not overcast, and where we were shoveling was not the shady spot in her yard, making our work just a bit more tiring. We "drew the short straw," and so we were shoveling gravel, which this morning, was pretty hard to do. The second home belonged to Javier, and for him, we were pouring the foundation on his addition. We got the "long straw" here, (we got there first,) and we staked out the sand, so the shoveling job here was a little easier. At this house, both the sand and the gravel were halfway in the road, so we put Myra on traffic control, moving us over to the sidewalk so the car or truck could pass.
Javier has been a most interesting co-worker, and has shared several pieces of information with all of us which sometimes seem embellished. His "new-to- him" home has a very large lot that includes a utility shed and a big back yard with space for his rooster. His home has one of the nicest interiors I have ever seen. He told us he had just recently moved into this house, and he introduced us to his two children. When asked about his wife, Javier said very matter-of-factly, "I don't know where she is." Someone else told us that he had recently returned to Mexico from North Carolina, which explained why he spoke English quite well. Javier has a few tattoos that hint at his previous life, but it was also said that he was trying to turn his life around now.
Kata spent this morning at the compound with Marisela, Dora, and the kitchen help, so she has garnered a bit of information about authentic Mexican cuisine. Today, she watched and learned how to make what looks like pulled pork, but is actually beef, which was served with rice and refried beans. (She knows the secret to the rice served every day, too.) Kata also revealed that one of the foods prepared this morning was French fries. (Those fries appeared on the plates of those who prefer all vegetables and no meat, and they also had rice, refried beans, and a small
cheese quesadilla.) In addition, Kata has been polishing up her Spanish speaking ability and using some of her knowledge of anatomy as she has hung out with the locals for two days, now. (FYI, it is now 2:40, and we are finally through the border.)
Two of the students that Elise and I sponsor came by today to see us. Danna and her parents, for whom we built a home in 2017, dropped in, and of course the first question they ask is, "Where is Elise?" They are such a sweet family, and Danna is just a little bit shy, so sometimes it is hard to get information out of them. When we received her most recent note, Danna said she liked calligraphy, so in addition to some books, and a "Barbie," we also got her some calligraphy pens. They are coming to the Fiesta tomorrow, and we will give her family a soccer ball then. Humberto also dropped in and stayed to have lunch with us. We have sponsored him since 2012, and he is now 23 and in school to become an engineer. He plans to bring his mother and brother, Angel, tomorrow, but today, he had a gift for Doug: it was a Reynosa City Futball Team Jersey. Wow! What a wonderful and thoughtful gift, and needless to say, Doug was surprised and overwhelmed.
Today was the dedication of the home, and the new missionary Isai was unexpectedly tasked with preaching the short meditation when Carlos had to go to the clinic with an eye issue. We were all impressed with his ability to deliver a brief and relevant sermon for this worship service. David introduced the family, and all members of our team were asked to participate in the laying on of hands for this sweet, blended family of mother, two brothers and two sisters, and four children. Then, Kayo and Isai offered Communion to all the congregants, and we closed the service by singing
"Unidos, Unidos." Right after the service and after a family and team photo, we gathered again in the dining hall to present our gifts to the family. They included two twin beds made by the Ministry; pillows, comforters, and sheets for both beds; a washing machine with detergent, clothes pins, and a laundry basket; a Barbie, a backpack and lunchbox, and a blanket for the older girls; diapers and wipes for the babies; books a soccer ball, and a piñata; and a cooktop. It is not every day that you can make such a difference in the lives of the members of one family, and we were happy to help make that difference for Ismael's family.
Tomorrow, we will be laying the last two rows of block and making the plaque for the home. Some of us will also have the opportunity to visit the clinic to help with breakfast for the children. At 11:00, we will be hosting a Fiesta for anyone in the community who would like to come for lunch. (As I type, the brisket is cooking overnight!) For the first time, we have ordered a piñata, which arrived today. It is a huge unicorn that will be filled with all sorts of Mexican candies. It ought to be great fun!
Tonight, Pastor McCann and his son joined us for dinner, and then offered his traveling prayer for a safe journey home. We will be loading the church bus with everything at 6:00 tomorrow morning; then, Charles Bell will Drive the bus to the McAllen office where we will pick it up tomorrow afternoon to begin our trek home. I will write one more journal entry Saturday evening, after we return home.
We have had an amazing week serving the Lord in Mexico! Thank you for your support of this Mexico Mission that is so dear to all of our hearts. It is a wonderful way to spend a week in June. Please continue to pray for us as we complete our work in the colonias and travel home.
With gratitude and love … your Mexico Mission penpal … Randi
Below are some additional pictures from the Faith Ministry Facebook page