Hello from your Mexico Missionaries
What a full day we have had today! Our mornings always begin with coffee, (prepared by Doug the night before,) then a great breakfast prepared by the two Diane's and Charles Bell, (our Weslaco FPC helper,) which is followed by our morning devotional. This morning, we spent part of our morning learning the sign language to "Lord, I Lift Your Name on High," which Diane Miller is patiently trying to teach us. We have high hopes that, by the end of the week, we will know that sign language, as well as The Lord's Prayer in Spanish.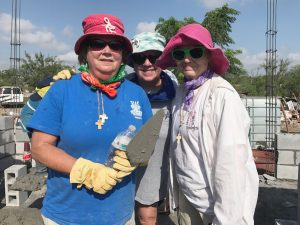 We left about the same time this morning, and had no problems getting to the church in the colonias. After a quick trip to the restrooms for all of us, we were back in the van and headed to our work site. Our first order of business, which some of our amigas had already started, was to sift the sand to make the mortar for laying the blocks. Because we had already poured the floor, the mortar was mixed right inside the house. There was no block line, which is the usual way we move the necessary blocks inside the house. The path from the blocks to the inside of the house was very convoluted and there was only one way there, for both going and coming. So about 22 of us carried one or two blocks and walked the path to the house and then returned to pick up another block or two.
Since Don is still recuperating from his recent back surgery, he has been limited in what he can do at the work site, thus his official title of photographer. Because he would not be able to help lay block, some were a little concerned that we would not have enough folks who could lay block. You will not be surprised to learn that we all rose to the occasion, and almost everyone on the team was a block layer today. Don revealed tonight how proud he was that we had three block-laying teams today: Kayo, Myra, and me; Jessie, Jamie, and José Cruz; Shawn and Elise. Robin was our mortar maid and Karryl, as always, was our super Aqua-man and rock collector, and Doug was an all-around helper providing blocks and water for mortar when needed. Rosie and Adan requested a front and back door, as well as a window on three of the walls, so perhaps our task was made a little easier because of the openings in the walls where we did not have to lay block. We completed our ten rows of blocks on all four sides of the home by around 12:45, which made lunch a little later for everyone.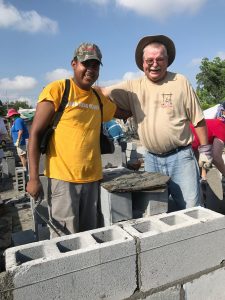 One of the best surprises today was the arrival of Marta and her young daughter. Either four or five years ago, we built a house for Marta in the same neighborhood. When she first walked up, we all were wondering if it was Marta, and she confirmed what we already knew. She came specifically to work with our team, the team who gave her a home. Rosie kept an eye on Marta's daughter, while Marta helped lay block. The other somewhat humorous event of the day was "the puppy," which we think was a long hair chihuahua, and her mother, who did not look like a chihuahua at all. Both were the reddish brown color of an Irish setter, and both wanted to be in the middle of the action inside the house. I am still wondering how the puppy, (whose name was Cindy,) never got stuck in the freshly mixed mortar. Imagine, if you will, a 12 by 24 foot home, with a 4 by 3 foot pile of mortar, lots of concrete blocks, 25 – 30 workers, and Cindy, prancing around all of us, narrowly missing mortar and blocks.
The heat was our enemy today, especially as we raised the walls and worked inside the house. Almost as soon as it was noon, and the sun was directly overhead, we got significantly hotter, and there were very few places to get out of the sun. Some of us found a wee bit of shade by standing alongside the van or in the small shade space of a stack of blocks. Our other enemy today was the flies which were everywhere. For the most part, bug repellent worked, but when it didn't, it was a couple notches above extremely annoying.
Today, for lunch, we had buttered noodles with a ground beef mixture, bread, and watermelon. Because a few of us prefer non-meat meals, a vegetable mixture was available instead of the ground beef mixture. After lunch, we handed out our pre-made lunches to the volunteers, before heading to
the church for worship. As we were late getting started, Pastor Carlos gave a short message, which Colleen translated. We also sang our usual songs before the pastor concluded the service with prayer.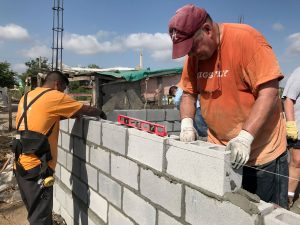 Tonight, the two Diane's made another amazing meal of vegetable lasagna, leftover chicken, salad, and, of course, a selection of the desserts made by the church. Elise and Shawn had the Eventide tonight, and they chose two non-traditional songs which reinforced the message of the day. Shawn opened by singing a James Taylor tune called "Lonesome Road." It was a beautiful prelude to our devotional material, and then he followed that up with George Harrison's "My Sweet Lord," and "Here I Am." The scripture they used was the story of the Samaritan woman at the well, so appropriate as we mission in another country.
We are so blessed to be your servants in Texas and Across the border. Thank you for your prayers and for your support as we try to be the hands and feet of our Lord every day.
Your mission pen pal …. Randi