Greetings from your mission team in Texas and Mexico! We have had an amazing day serving the Lord today, and it all began with a beautiful rainbow or two.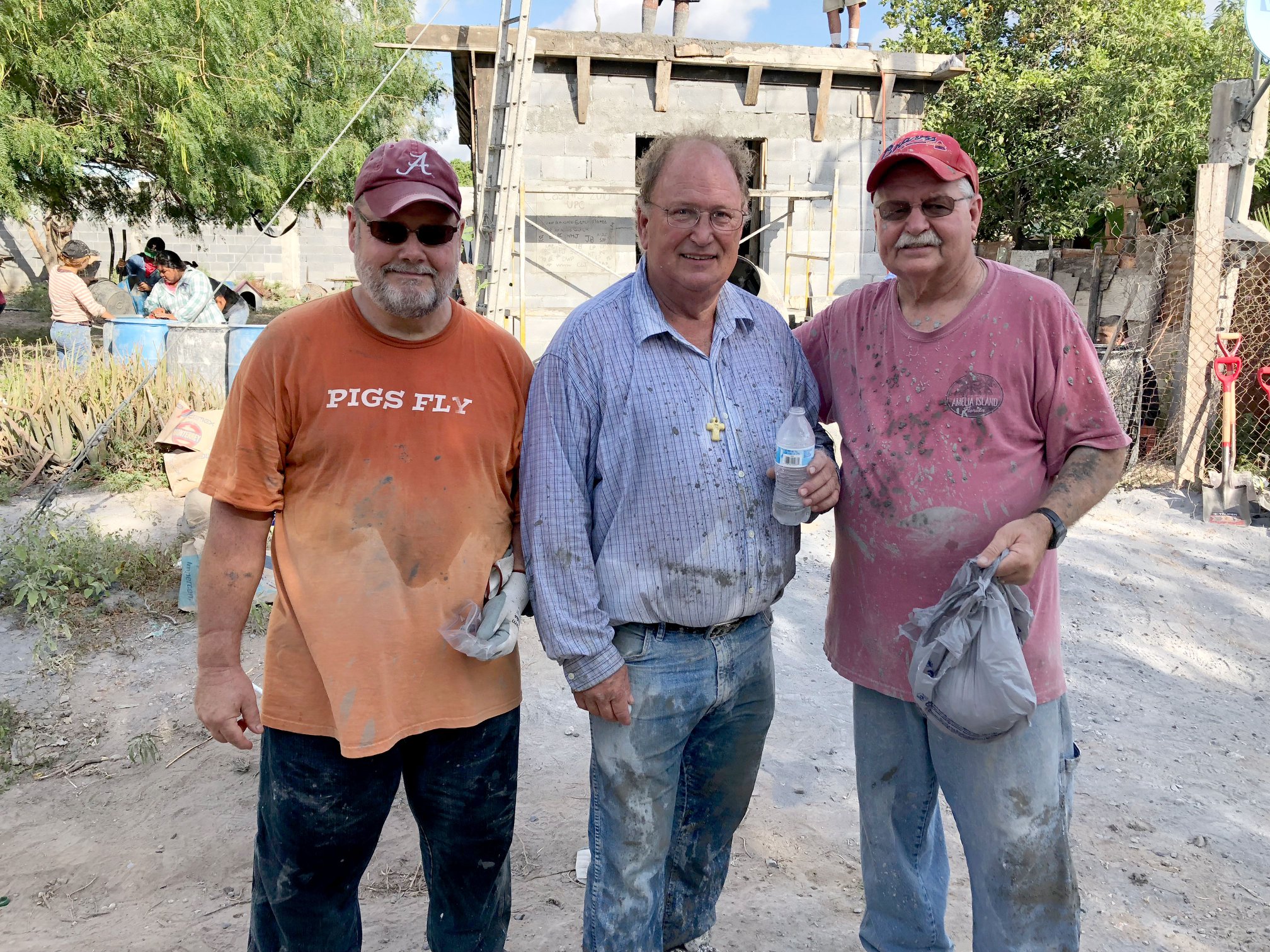 This morning, Julie from Weslaco FPC joined us for breakfast, again. We had the usual fare; however, today we had bacon, and it was possibly the best bacon I have ever eaten, and everyone agreed with me. Since Julie, who is originally from Minnesota, had never tasted grits, we encouraged her to give them a try. Our grits are basically pretty plain, but we explained how easily they could be doctored up with butter, cheese, and even meat. A couple of us suggested she try them by using that great bacon as a sport to deliver them to her mouth. Julie tried them, but she readily said, "I'm good; one taste was enough."
Again this morning, we had a little more time before loading the van, as we cannot arrive too soon in the colonias. As we departed Weslaco, we noticed that the skies over Reynosa were dark, and before we reached the border, a few raindrops had fallen. In the past twenty-five years, I can count on one hand the number of times it has rained while we were in Mexico. Still, once we crossed into Mexico, (we got a green light again,) the rain began and a magnificent rainbow with a slightly lighter double rainbow appeared in the sky over the colonias. What a wonderful sign that God was present with us in Reynosa!
Once we arrived in the colonia, we could see that they had just experienced a pretty good shower, as several of the streets still had water remaining. We stopped briefly at the church compound for our beginning of the day rest stop and prayer before we handed out the biscuits and bacon and eggs. Good news! Bill from the other team was recovered and was with his fellow missionaries, eager and ready to serve. The volunteers loaded up, and both teams headed to their building sites to begin the main task of the day: completing the required ten rows of block. We probably had about ten or twelve volunteers who worked alongside us as we either mixed the mortar or laid the block. Some of you will remember that there are several smaller jobs of varying skill levels on this day, so there is plenty of work to go around. Together, our work group performed some or all of the following tasks: mix mortar, take mortar to the block-layers, tend the mortar pile, move more blocks into the house, distribute the blocks to the block-layers, fill used water bottles so the blocklayers have water to wet the blocks or the mortar, prep the blocks by buttering the end, "chip" the block to make a half-size block, lift the prepped blocks up to the scaffold, "chink" the cracks between the blocks, fill the holes in the blocks with rocks, clean the tools, and keep the work team hydrated. In addition, many who tended the mortar were able to multi-task. So while the work continued, Kata became "the professor," as she spent her in-between time, teaching her amigas and amigos some English. Our friends, of course, reciprocate by helping us learn some Spanish.
Possibly, our most frequent phrase while working is "Como se dise …."
Today, as we worked, we had some time to quiz Colleen about the work of the ministry. One of the things we found out was there will be 9 different interns working with Faith Ministry over the course of the summer. Wow! That is really amazing! Colleen also told us that one of the interns coming this summer is the child of a couple who worked as interns over twenty years ago. Some of you will remember Hank and Kelly, and it is their son who will be an intern. We even introduced Colleen to a term we have used for many years to describe the work of those tending the mortar
pile … "mortar maids."
Lunch at the compound today was a ground beef mixture with noodles, salad, cantaloupe, and bread, all of it very good, and most of us were quite hungry after our morning. After lunch, we had a little time to spend with our amigos and amigas. All week, we have commented that our Mexican
friends were a "tough crowd" to "play to," so we have been working hard to get them to loosen up and laugh at our jokes and antics. (Colleen thought this was because we are one of the first groups of the summer.) Today, I think we finally broke the ice. In the past few years, we have made some bracelets with beads, crosses, and starfish, so we started by handing out those to all our amigas, and they seemed to like those. Still, I know you are waiting to find out how Elise's hair appointment went today. Wendy bumped Elise off the schedule, and instead she did the volunteer Vicky's hair! (Vicky and Colleen are both coming to dinner with us tonight, so because Vicky had an event to attend, Elise's appointment was canceled. As Vicky was getting her hair braided, she talked about how long her hair used to be, causing Elise to recall the time the bees got in her very long hair. (Doris Estes will probably remember this event, too.) At any rate, Elise gave a dramatic and very animated retelling of that episode, complete with sound effects and motions, and Vicky translated the entire story for all the Mexican volunteers, and she did all that while Wendy finished the braid!
As we left the colonia this afternoon, we noticed for the first time that The Lord's Prayer had been painted on a wall … and because we have been saying The Lord's Prayer in Spanish all week, we were able to recognize those words instantly. Also, our "border crossing" odds have definitely been in our favor so far this week; we arrived at the gate at 2:00 again today, and guess who was our agent? Officer Munoz, and he had just begun his shift. Once again, he was so pleasant and interested in our mission this week. (He even asked us if we were using the new block which protects the residents from heat, but we replied, " Not yet.") Do you think our excellent border odds will continue, so we can make it four days in a row? Stay tuned tomorrow to find out.
While we have been working across the border, the two Diane's have lots to do "back home." Today, with a couple of ladies from the church, Diane and Diane packed the gift bags for the Faith Ministry staff we have been working with every day. It has become our custom to buy some food staples to gift them with, so when we grocery shopped on Sunday, we went ahead and purchased flour, sugar, corn meal, salt, tomato paste, noodles, beans, and oil. Tomorrow we will take those across the border with us and leave them to be delivered on Friday afternoon.
Tonight is the night we go out to eat with our mission trip friends, so both Colleen and Vicky have come to Weslaco to join us for dinner, as well as to spend the night with us. We have also invited Pastor McCann and his family, David and Nancy Rodriguez, and Carolyn and Charles Bell. It is just a small way to thank those who have worked so hard to make our mission trip a real opportunity for us to serve others and the Lord. We all enjoyed an evening of good food and fellowship, and the Athens FPC Potter's Hand provided a few gifts as a way to show our appreciation.
A few of us are still finishing up our nighttime task, but we will soon all be in bed, as 5:00 comes early. Thank you again for giving us the opportunity to serve the Lord in Mexico and in Texas. We are so grateful for this mission and the good it is doing.
Until tomorrow then … Your pen pal in the Rio Grande Valley … Randi