Christian Education is provided each Sunday morning from 9:30 a.m. to 10:30 a.m.  Sunday School at First Presbyterian Church offers a variety of experiences for both children and adults to study and learn about the word of God. For children, there are classes from toddler-aged on through high school years. For adults, there are a variety of classes led by dedicated and knowledgeable instructors teaching relative Bible-based curriculums. Each quarter, we celebrate "Assembly" – a time when we gather in our sanctuary to enjoy a meaningful lesson and have excellent fellowship.
If you are seeking to learn more about the Bible and its relevance in your life & today's world, then please consider joining one of our exciting classes or Bible studies.
Children And Youth Classes
Nursery – Ages 0 to 18 months
Early Christian Awareness – 6 months to 3 years
Younger Elementary – Grades K through 2nd
Older Elementary – Grades 3rd through 5th
Middle School/High School – Grades 6th through 12th
Adult Classes
Young Adult Class – A class led by lay and clergy alike, this class studies a variety of issues that affect our generation on a day to day basis. It is also a wonderful fellowship group that connects young families within the congregation.
Corner Class – A class led by a husband and wife team which studies a Bible-based curriculum that encourages lively discussions and participation by all class members.
Discussion Class – A class for middle-aged adults and empty-nesters, based on active discussion on contemporary issues and detailed Bible study.
Richter Bible Class – A class for older men who enjoy fellowship and study material from the International Bible Lesson series.
Kids Korner Class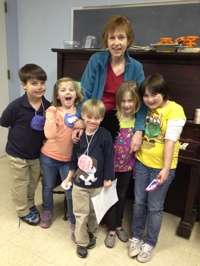 A class for children ages 4 years through 5th grade.  This group also meets every Wednesday Night in the Kids' Korner class at 6:00 p.m.  There, they enjoy learning about our church and faith through stories, crafts, songs, and special congregational visitors!